You have Completed

50%

50%
Wait a Minute

: An amazing one-time offer Just for you. Get this bundle now at

$99

$47 only
Coaches & Course Creators: Stop devoting the majority of your time to creating your workbook
THE EPIC WORKBOOK BUNDLE
It includes 110+ Easy Edit Canva Pages, a Framework & Strategy guide to creating the bestselling interactive workbook, a Title Naming formula guide, and much more.
If you've never tried to make an effective income with your workbooks, you're in for a marvelous surprise…
A new low-ticket strategy for building a list of buyers FAST & upselling the workbook to clients along with your signature offer is ease.
WHAT'S INCLUDED INSIDE THE BUNDLE
1 
THE 110+ PAGES CANVA TEMPLATE
The pre-built, easy-to-edit canvas templates will help you to create your workbook in a few minutes.
This includes 110+ canva pages that include various strategically built planners, guides, etc.
WORTH – $250
2 
THE CONTENT FRAMEWORK AND STRATEGY GUIDE.
This guide lays out the ideas for creating an effective workbook that assists you in creating the most popular interactive workbooks.
 Marketing and promotional strategy guide that helps you focus on your promotion roadmaps.
WORTH-$150
3 
TITLE AND TAGLINE CREATION FORMULA
A formula that will help to create a memorable and unique tile.
This is a tagline formula that will help to create effective promotion ideas.
WORTH – $37
And finally, a special bonus is only for you.
BONUS 1
CANVA TUTORIAL
A video tutorial on how to edit the templates and create a workbook on Canva.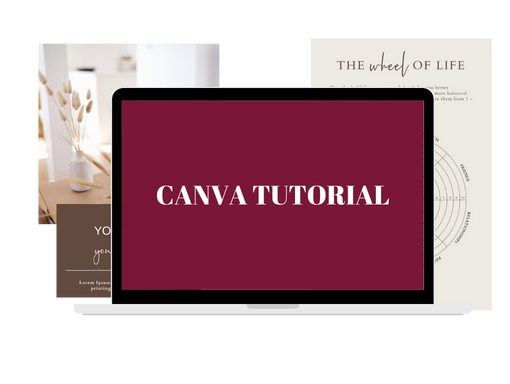 BONUS 2
HOW TO MAKE PDFS THAT CAN BE EDITED.
A video tutorial on how to make your pdf editable so it will be user-friendly and interactive for your clients.
WHAT'S INCLUDED IN THE CANVA WORKBOOK TEMPLATE
COVER PAGE

WELCOME PAGE

DAILY PLANNER

WEEKLY PLANNER

MONTHLY PLANNER

PROJECT PLANNER

COURSE PLANNER

GOAL PLANNER

GOAL TRACKER

PASSWORD TRACKER

MEETING NOTES

TESTIMONIAL SHEETS

TABLE OF CONTENTS

EBOOK PAGES

OFFER GUIDE

WHEEL OF LIFE
YEARLY GOAL TIMELINE

PROGRESS TIMELINE

DAILY ROUTINE TIMELINE

HOW TO DO AN EFFECTIVE ACTION PLAN

ACTION PLAN GUIDE

GOAL ACTION GUIDE

BRAINSTORMING WORKSHEET

DECISION-MAKING WORKSHEET


RESOURCE SHEETS

GALLERY GUIDES

IMAGES GUIDES

DO'S AND DONT'S GUIDE

JOURNAL / NOTES MAKING
DAILY CHECKLIST

WEEKLY CHECKLIST

SOCIAL MEDIA CHECKLIST

VISION PLANNER

VISION BOARD

WEEKLY SUCCESS

31 DAYS HABIT TRACKER

MEAL PLANNER

SAVINGS TRACKER

EXPENSE TRACKER

BUDGET PLANNER

TO-DO LIST

SWOT ANALYSIS

AFFIRMATION POSTS

COLOR PALETTE

BRAND BOARD
WORKSHEETS

COACHING QUIZZES

CHEAT SHEETS

CALL TO ACTION GUIDES

HOW TO GUIDES

ROADMAP OVERVIEW GUIDES

PRICE GUIDE

PRIORITY MATRIX

DONUT CHART

FUNNEL CHART

STACKED ROW CHART

OTHER CHARTS SHEET

COPYRIGHT GUIDE

PRIVACY POLICY

AND MORE
THIS IS HOW THE CANVA TEMPLATE LOOKS. EASY EDIT 110+ PAGES FOR YOU TO CREATE YOUR WORKBOOK WITHIN A FEW MINUTES.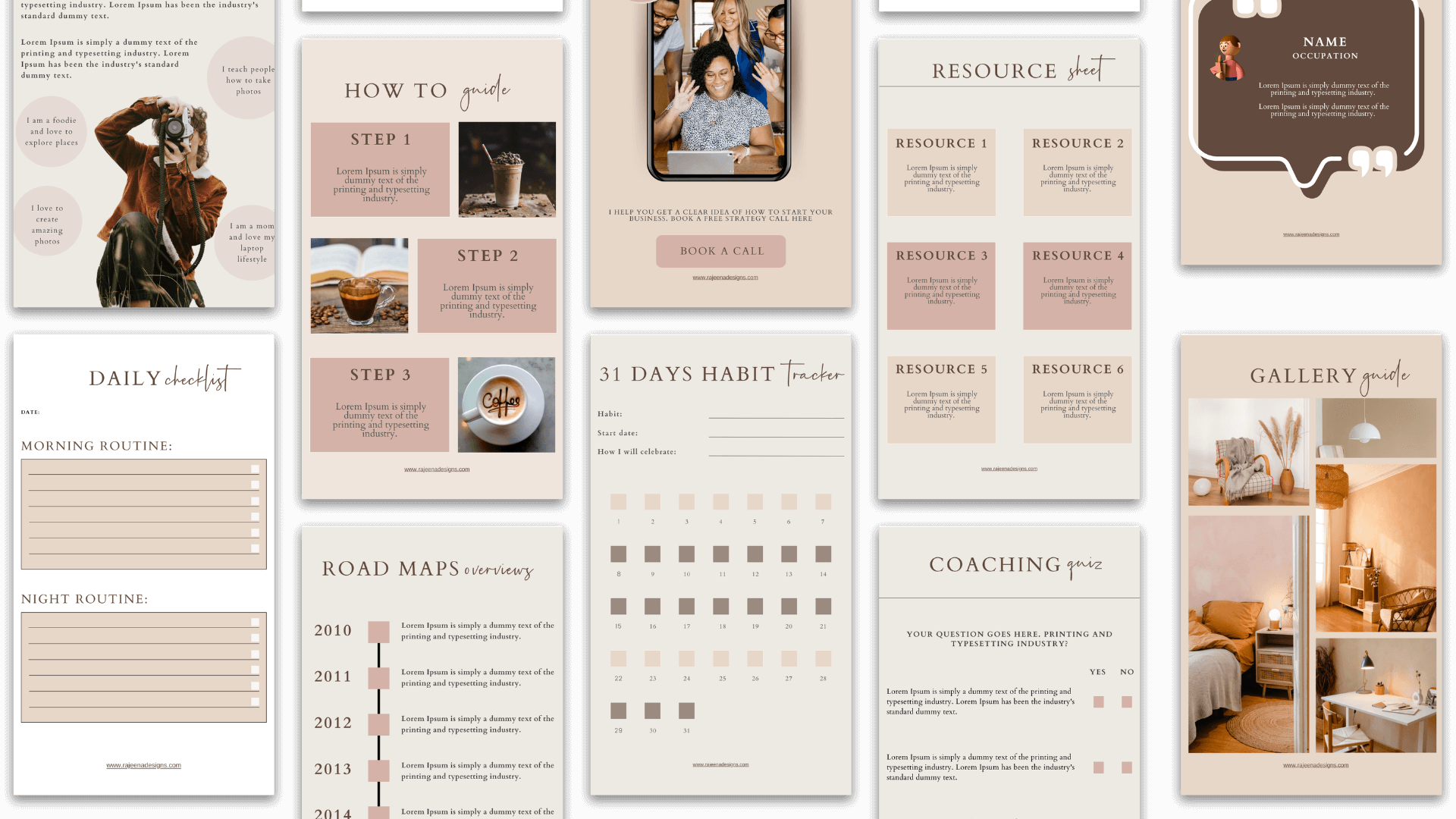 What are your benefits in buying this workbook
WITHOUT THE EPIC WORKBOOK BUNDLE
You have to spend hours and days creating your workbook.
Concerned about what to sell as an upsell with the signature offer or order bumps?
Have no idea what to give as a low-ticket product.
It is difficult to add products to your digital shop.
Always concerned about passive income.
 THE EPIC WORKBOOK BUNDLE
The epic workbook bundle is easily editable and you can create your workbooks within a few minutes.
It's easy to create an upsell with this signature offer and order bump.
It is simple and easy to create a low-ticket product.
It's easy and effective to add products to digital shops.
Generate passive income with ease.
4 STEPS TO CREATE YOUR EFFECTIVE WORKBOOK
STEP 1: FRAME YOUR IDEAS
I have created various frameworks for you to get an idea of what to use for your workbook. You can use this as a lead magnet, template, plug-and-play file, pdf, or any of your required files.
STEP 2: CREATE YOUR CONTENTS
You can add and edit your content inside the template. You can add/ edit the framework according to your specific strategy and offer. As an easy edit template, this will be easy for you to add your content.
STEP 3: DESIGN YOUR WORKBOOK
Now it's time to add your branding and designing elements to your workbook. You can implement your brand colors and fonts inside the template.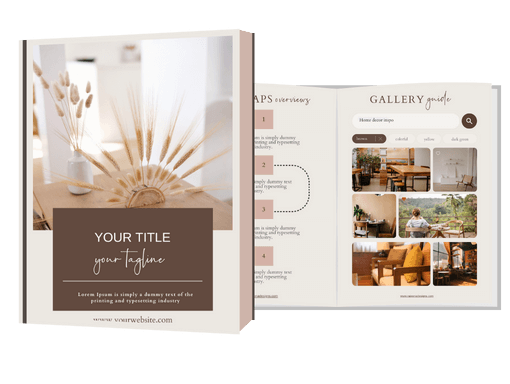 STEP 4: NOW ITS TIME TO CELEBRATE
Now it's time for you to promote your own workbook. Celebrate your income revenue with your easy creation workbook.
FREQUENTLY ASKED QUESTIONS
Who is this "Workbook Toolkit" for?
This is for Coaches, Course Creators, and any business owners Who wanted to create and Sell their digital products like pdf, e-books, templates, etc
How is this different from other workbooks?
This template was created with proven strategy and Ideas to Be Required for Any coaching Business, So this will Be your Ready to go Creation guide.
Is there any money back guarantee?
Unfortunately No, Since it's an Easy download digital product there is no money back (or) Refund.